Ellesmere Port Gypsy pitches plan gets council backing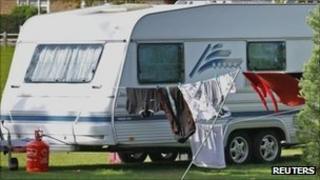 Plans for 12 permanent Gypsy and traveller pitches have been given the backing of councillors in Cheshire despite local objections.
Outline planning permission for the site on an Ellesmere Port industrial estate was granted by Cheshire West & Chester Council on Thursday.
Local residents say the traveller site could threaten investment in the area.
A spokeswoman for Irish Community Care Merseyside said a "properly managed site" is needed in the area.
Win Lawlor said: "The families are already living in Ellesmere Port and what the council is doing is bringing the standard of living facilities up to what is an expected standard for 2012.
"I can understand concerns. Up until recently all there was in Cheshire were unauthorised encampments, unmanaged and uncontrolled by anyone other than the community themselves.
"This is a huge step forward for Cheshire that the local authority are taking responsibility and identifying that they have a need and wanting to do something proper and proactive."
Plans for the development on Rossfield Road industrial estate feature 12 pitches, eight utility blocks and a warden's office.
'Far from suitable'
Billy Griffiths, who owns WT Windows, said local firms felt the plans had not been properly thought through.
He said: "We are struggling as it is with the financial economic climate.
"They need to take a step back and explain to the public why this is going to be going ahead.
"I understand that there has got to be somewhere for the Gypsy travellers to go and I don't think this site is suitable whatsoever."
Glen Higgins, who is leading a residents' protest group, said: "We do recognise that there is a national demand for housing and accommodation for the travelling community.
"But what we are objecting to is the lack of consultation to the siting of this proposal.
"With it being in the heart of an industrial estate, it is far from suitable."
The completed plans will go before councillors at a later date.