'Kung-Fu' inspires folk artist Laura J Martin's debut album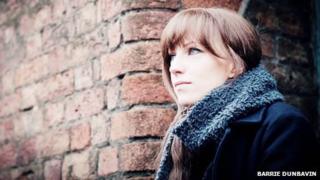 A Liverpool singer songwriter says "Kung-Fu films" and "childhood memories" are the inspiration behind her debut album.
Laura J Martin said the "haunting flute melodies" featured in Japanese films have inspired her folk music.
The Maghull singer songwriter released The Hangman Tree in January and has since received national air play.
She was recently tipped for success by BBC 6 Music DJ Marc Riley who described her as "nothing short of brilliant".
She said: "I used to watch a lot of Kung-Fu films before I went to sleep at night, and I loved the haunting flute melodies on them.
"My song 'Spy' sounds particularly Kung-Fu-esque, one of my tracks is based on a Japanese legend and 'Fire Horses' is about a Japanese arsonist."
The album features a range of instruments including the flute, mandolin, ukulele and Japanese drums -as well as objects found around her home.
Ms Martin added: "I banged pots and pans in the kitchen, a sugar bowl, my sister's typewriter, a cheese grater and I even blew across beer bottles, when I was recording the album.
"If I could afford a drum kit, a studio and a bunch of musicians, I would have gone with it, but my budget and being an impatient person meant that I was going around the house and banging things there instead.
"Recording in my bedroom meant that I could be as experimental with the sound as I wanted to be."
Ms Martin will play a series of festivals in 2012 and plans to start writing her second album later this year.