Kirkby regeneration plans passed by council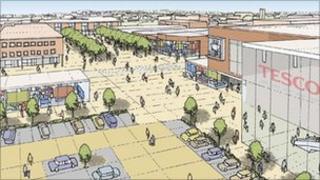 Plans to redevelop a Merseyside town centre have been approved.
The proposals include £2.5m improvements to Kirkby Market, giving it better access to the town centre.
They also include remodelling the Kirkby Suite building into a public services centre which will house the library, a gallery and an adult day care centre.
The plans were passed at a meeting of Knowsley Council's cabinet on Wednesday.
The intention is to completely redesigned the market to improve layout and give shoppers better access to stalls and the town.
Work is expected to start within 12 months with the market due to be up and running in July 2013.
Mike Harden, deputy chief executive of Knowsley Council, said: "By looking closely at what the community needs and wants we have been able to develop plans that we believe will provide fit-for-purpose public facilities in the heart of the newly regenerated town centre."