Halton 'best for business growth' in the North West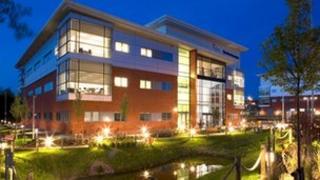 Halton in Cheshire has been identified as the best place in the North West for business growth.
BBC commissioned research put Halton 13th out of 324 English local authorities for the proportion of businesses with high growth potential.
There are about 4,128 companies of which around 540 have been classed as having good prospects for the future.
For overall business base growth between 2010 and 2012, Knowsley came bottom of the table.
Experian, which carried out the research, identified the key characteristics of high growth "champion" businesses.
These were young, small companies less than 10 years old and with less than 50 employees; firms with directors showing entrepreneurial appetite and experience in other recent successful business ventures; being part of a wider corporate network in which sister companies have also experienced recent growth and involvement in international activity.
Many of the businesses at Daresbury Science and Innovation Campus (SIC) fit this profile.
The campus is a private-public sector collaboration between Langtree, the Science and Technology Facilities Council (STFC) and Halton Borough Council, with more than 100 hi-tech companies, ranging from biomedical research to engineering.
One such company is ADB MultiQuote which links public sector organisations wanting a better deal for their procurement contracts with suppliers who are small to medium enterprises - one NHS Trust said the company saved it £10,000 in one week.
The result is a better deal for public sector bodies and access to untapped markets for many of these small businesses
Among its customers are NHS Blood and Transport, King's College Hospital NHS Foundation Trust and Cambridge University Hospitals NHS Foundation Trust.
"Our business has been improving year on year," said operations manager Stuart Foxall.
The company was founded eight years ago and has been at Daresbury since the middle of the decade.
Mr Foxall said the site, with so many businesses, created an atmosphere of mutual support and networking.
Derek Twigg, Labour MP for Halton, said Daresbury was just one of several factors creating a better business climate in the area with other developments such as new depots for hauliers Stobarts and Tesco, and the expected economic benefits from the Mersey Gateway, the second bridge across the river.
"A lot of the credit has to go to Halton council for the way they have encouraged development," he said.
Knowsley in Merseyside also has small pockets of companies that are regarded as having the potential for growth - 12.6%, or about 832 out of a business base of about 6,610 companies.
It also had a start up rate of 24.6% last year - about 1,726 new businesses were created between 2011 and 2012.
But Lesley Martin-Wright, Chief Executive of Knowsley Chamber of Commerce, disputed these statistics and said the number of businesses was about half of Experian's figure.
"I don't know where they got that from," she said.
Brands associated with Knowsley tend to be Ford, Jaguar, shopping channel QVC and the drink Lambrini.
But according to Mrs Martin-Wright, a lot of work was being done in the borough to promote smaller businesses, and the chamber plans to work with businesses to promote entrepreneurship in schools.