Cable theft leaves Cheshire village without landlines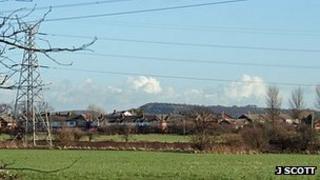 Villagers in Cheshire have been left without landline telephones after a length of cable was stolen.
Residents in Elton, near Ellesmere Port, reported faults on Monday, which led BT engineers to discover the cable was missing.
A BT spokeswoman said the firm was working "as quickly as possible" to remedy "around 350 faults" but could not say when repairs would be finished.
No-one has yet been arrested in connection with the theft.
An Elton resident said it was "a worry for the elderly", who might not have mobile phones.
'Extremely regrettable'
He added he had been told the service would be restored by Friday.
The spokeswoman said it was not possible to give a firm date for the full reconnection of the service as engineers had "run into some complications".
However, she said the firm was "working round the clock to complete the necessary repairs".
"A temporary cable in is place and [they] are starting work on jointing the sections together," she said.
"Once this is completed, they will be able to start restoring each individual line.
"Due to the scale of the damage, and nature of repair work, it is difficult to say precisely when the repairs will be finished, but work is ongoing.
"The nature of the repairs means people will have their services reconnected gradually, rather than being able to reconnect in one go."
She added that cable theft was a major issue affecting lots of different organisations at the moment, which are working closely with the police to combat it.
"It is extremely regrettable when we suffer any kind of attack on our network," she said.