Huyton flood: Pipe renewal work begins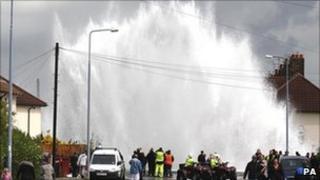 Work has begun to renew a diameter water main which burst last year flooding homes and businesses in Liverpool.
The water main, on Liverpool Road, Huyton, sent a 12m (40ft) plume of water into the air when it burst.
About 60 homes and businesses were flooded and a 200 properties were affected when the area was evacuated.
Sealing the length of the cast iron main is expected to take 12 months, with disruption to traffic expected.
A new plastic pipe will be inserted into the original main to create a new lining.
United Utilities said the work will mean digging a number of large holes 18m in length to gain access to sections of the main.
Work to inspect and renew joints on pipes in the area has been taking place since September.