Former anorexic's mother calls for airbrushing ban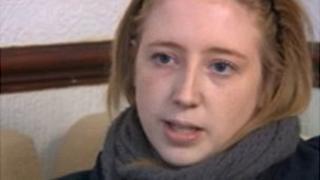 A woman whose daughter nearly died when she developed an eating disorder has set up an e-petition calling for airbrushed images to be banned.
Lynne Johnston, from Warrington, Cheshire, said images of celebrities in magazines and online give a false impression to impressionable children.
Her daughter Rachael was 13 when she started having issues with her weight.
Her weight plummeted and at one point her mother was told she was just 48 hours away from death.
Mrs Johnston said: "Rachael was literally wasting away in front of my eyes. She had collapsed a few times because she had not eaten enough.
"At one point doctors told us she would be dead within 48 hours."
After undergoing treatment in hospital, Rachael, now 20, is now on the road to recovery, but Mrs Johnston wants to help other young girls she believes are being influenced by certain images of celebrities.
'Superimposed head'
She said: "We firmly believe that one of the triggers to her eating disorders were the photographs that she was able to see in magazines and newspapers and on the internet, where models and celebrities were very clearly airbrushed.
"They are airbrushed beyond all recognition of what you would consider to be a healthy human body, to the point where wrinkles are taken away, waists are defined, it is just a totally false image to give to children of any age really.
"I think she would aspire to any celebrity that she would see in a magazine, she had actually superimposed her head on the bodies of celebrities, of anybody who Rachael aspired to have a body like."
Rachael now goes into schools to talk to young girls and boys about body image, in the hope that sharing her experience will deter others from developing similar disorders.
She said: "I was just completely overtaken by the anorexia but I didn't realise at the time what it was, I just thought I was in control of my eating.
"I was losing weight and it felt good and that's all I cared about.
"I lost the feeling of what hunger felt like."
Rachael said she is still receiving treatment for her disorder.
"There are still days where I restrict my diet, but I am also still on medication for depression as well which is a result from my eating disorder.
"I can recognise a bad day when I'm having one, but I just have to let it pass. I can't dwell on it otherwise I'll never get better."
"I just think, if someone was out there when I was suffering saying look, these images aren't real, then I think it would have helped."