Sculpture returns to St George's Hall after 70 years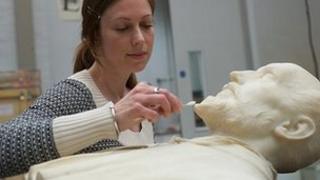 A bust dedicated to the memory of Liverpool's first organist is set to return to its original home.
The sculpture of William Thomas Best was removed from its location in front of the organ in St George's Hall, Lime Street, when World War II broke out.
It has been in the Walker Art Gallery's stores since 1972, but will be be re-installed in the hall at 16:15 BST.
William Best became Liverpool's first organist in 1855, retiring in 1894. He died in 1897.
St George's Hall manager, Alan Smith, said: "It's fantastic news that the statue will be returned to its rightful home.
"I would like to thank the Friends of St George's Hall who paid for the reinstallation."
Reinstating the bust completes the Progress of Justice series of artworks on display in the hall, created by the artist Conrad Dressler.
In its 156 year history, St George's Hall has had six organists, all local men. The city's current organist is Professor Ian Tracey.
They play the Willis Organ, the third largest in the UK.
It was built in Liverpool in 1855 by Father Henry Willis.