Beaches in Sefton close to cars over Easter weekend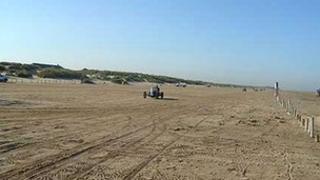 Visitors to Sefton have been warned not to take their cars to the beach during the Easter bank holiday weekend.
Southport and Ainsdale beach will be closed to cars because of high tides.
The beach at Southport will be closed from Good Friday to Bank Holiday Monday, while Ainsdale beach will be shut from Saturday to Monday.
Sefton Coast and Countryside Officer Gordon White said tides were expected to reach "ten metres in height" and cars would not be allowed on the shore.
He said: "When we get very high tides it is not safe to park cars on the beach in those conditions so we will have to close the beaches.
"It doesn't mean that people shouldn't come to Southport and not do what they would otherwise do in town."