'Most wanted' escapee Kirk Bradley held in Amsterdam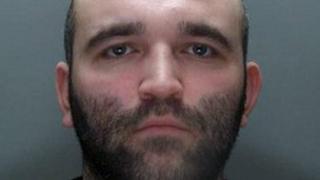 One of the UK's most wanted escaped prisoners has been arrested in Amsterdam, the Serious Organised Crime Agency (Soca) has said.
Kirk Bradley, who fled from a prison van in Manchester last July, was arrested with his uncle on Wednesday night, it said.
He was found guilty in his absence of firearms offences in March.
Soca's head of European operations Ian Milne said Bradley had had "no idea we were on to him".
Bradley was a member of a gang which carried out shootings in Merseyside and were involved in an incident where a hand grenade was found at the home of Liverpool manager Kenny Dalglish.
Anthony Downes, who was convicted of the same charges as Bradley and also escaped in the prison van raid, was captured in Goes, Zeeland, in March while checking into holiday accommodation.
The pair escaped custody after the van they were travelling in was ambushed by armed men in Trinity Way in Manchester. The driver of the van was injured in the attack.
'Very dangerous'
The incident led to the collapse of their original trial, but both were later convicted in their absence at a retrial at Woolwich Crown Court in March.
Bradley, who was arrested at what Soca described as his "luxury apartment", is expected to face an extradition hearing before he can be returned to the UK.
Downes faced a similar hearing after his arrest and has since been fighting extradition proceedings.
Mr Milne said that "joint working with Merseyside Police and the Amsterdam Police" had led to the capture of "two violent and dangerous individuals".
"They are now back behind bars where they belong. This shows that criminals who flee to other countries are not beyond our reach," he said.
Bradley and Downes, who described themselves as "blood brothers" at trial, ran a criminal network between 2009 and 2010.
'No place to hide'
The gang carried out shootings and operated on behalf of others in the Liverpool underworld.
The grenade was left on Mr Dalglish's front wall in July 2009, when he was not Liverpool's manager, but it was not intended for him.
Both Bradley and Downes were found guilty in their absence of conspiracy to possess firearms with intent to endanger life and conspiracy to cause damage with intent to endanger life and ordered to serve a minimum of 22 years in March.
Three others admitted possessing firearms and causing criminal damage with intent to endanger life and were also jailed for life.
At the trial, the judge said Bradley, who was first convicted of robbery aged 15, was "plainly a very dangerous man".
Supt Richie Davies, of Merseyside Police, said the "capture of Bradley, and Downes before him, underlines Merseyside's commitment to work with other authorities to ensure that serious criminals have no place to hide".
His comments were echoed by Arno Julsing, chief of detectives for the Amsterdam Police, said Bradley's capture was the result of "fantastic" collaboration with "British colleagues".
Merseyside Police said Bradley's uncle, Raymond Bradley, from Woolton, Liverpool, who was also arrested in the Amsterdam raid, was being held on suspicion of possession of cocaine with intent to supply.