Hundreds of runners take part in Halton's Run the Bridge race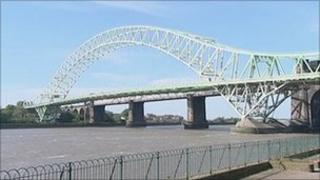 Hundreds of runners have raced across the Runcorn Widnes bridge for the annual Run the Bridge event in Halton.
The 5 mile (8km) race, now in its 13th year, attracted more than 780 runners and hundreds of spectators.
A number of roads were closed across the borough on Sunday morning for the event which started at Picow Farm Road and ended in Hale Park.
The race was won by Elly Tarvs who completed the course in under 26 minutes.