Titanic anniversary: Giant puppets in Liverpool commemoration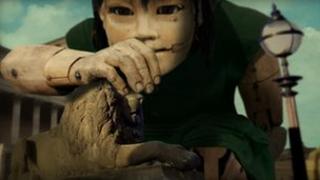 A giant dog will join a large puppet girl and man for a three-day event in Liverpool to mark the 100th anniversary of the Titanic disaster.
Sea Odyssey, a free event, will take place in the city from 20 to 22 April.
Final details of the route and the story created for the street theatre event have been revealed.
Jean-Luc Courcoult, Artistic Director of Royal de Luxe, said it was "an adventure" and "a story about people".
Three giant puppets will roam the streets around Liverpool's waterfront and two football grounds before meeting at the city's waterfront.
Titanic was registered in Liverpool, which was the base for its owner the White Star Line and many of the workers on the ship were from the city.
It is estimated more than 200 local families lost a family member on the Titanic.
'Collective memory'
Mr Courcoult said his work "only plays in outdoor places, not closed venues or theatres".
He said: "This obliges me to make a story for the city where the play is performed.
"The city's history and its collective memory will give the event a kind of identity and civic pride.
"It belongs to them and their family.
"It will encourage people to rediscover their spirit of childhood when they see the public performances."
The event is inspired by a letter written by a young girl to her father who was a steward on the Titanic.
The letter, which failed to reach the ship before it departed, was seen by Mr Courcoult in Liverpool's Maritime Museum in 2006, when he was working on an idea for Liverpool's year as European Capital of Culture in 2008.
The Sea Odyssey story is based around the girl's uncle travelling to the Titanic wreck to bury his brother and retrieve mail from the ship.
The giant man will emerge from the River Mersey on the Friday afternoon.
The puppet man and the little girl, with her dog Xolo, will move around the city independently before joining together on the Saturday evening.
On the Sunday of the event, the giants will distribute letters written by people taking part in community projects in Liverpool before departing on the river.
About 110 people will be involved in the operation of the giant puppets with another 250 volunteers working on the streets.