All We Are's EP recorded in Liverpool church and school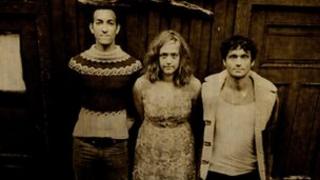 A new EP recorded by alternative folk band All We Are in a church and disused school launches at the end of April.
Richard O'Flynn, Guro Gikling and Luis Gustavo Santos wrote the songs for We Hunt in Norway but returned to Merseyside to record in the parish of Walton on the Hill and the church of St Margaret of Antioch Primary School in Toxteth.
They said the acoustics in the church and other local creatives working in the old school, inspired their decisions to record in each place.
The four-track EP will be launched with a show at St Bride's Church, Liverpool on 28 April.
'Inspiration from nature'
Vocalist and bassist Guro Gikling told BBC Radio Merseyside that their choices of places to write and record has "definitely affected" the sound of their release.
She said: "We went over to my parents' cabin in Norway for a writing session because it's really peaceful and it gives you a lot of time to think.
"It's quiet and the nature is beautiful and we get a lot of inspiration from that," she said.
"Walton on the Hill is a really beautiful church and the sound in there is amazing.
"It's all natural reverb and the vocals come across really beautiful. We all sang together in this stone room there and the harmonies sound really special."
Vocalist and percussionist Richard O'Flynn moved into the former Merseyside school where they recorded the other two tracks as part of a scheme called Ad Hoc which helps people to move in to unoccupied properties.
He said that it has allowed them to capture different aspects of "where we were at the time" on the new EP.
"We recorded two of our tracks Cardhouse and Red Sky in the gym hall of the school because it's really good in there acoustically," he said.
"I live in the former nursery, where there is big room full of dolls, teddies, hula hoops and jigsaws but we just push those aside when we are performing."
All We Are - inspired by Brazilian classical music and artists including Bon Iver and Joni Mitchell - formed and played their first gig in June.
Two weeks later, they were invited to support Stealing Sheep on tour and released a debut EP which received praise from BBC 6 Music DJs Tom Robinson and Marc Riley.
Plans for 2012 include a second UK and European tour, slots at Liverpool Sound City and Fusion Festival in Germany and the release of a debut mini-album in late September.