FA Cup semi-final overcrowded trains fears evaporate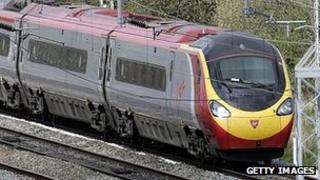 Fears that Liverpool and Everton football fans travelling to the FA Cup semi-final at Wembley could face overcrowding have evaporated.
Virgin Trains warned on Friday that unreserved ticket sales meant the firm did not know how many passengers would use the West Coast main line.
Fans leaving Liverpool Lime Street station boarded trains successfully as the company laid on extra services.
About 80,000 fans have travelled to Wembley for the lunchtime kick-off.
Virgin Trains laid on "1,500 extra seats on the route, with a further 900 seats on privately operated charter train services", with the company saying it was the most that could be provided on the early services.
The firm had been concerned that services from Liverpool, Crewe and Warrington to the capital on Saturday were heavily reserved.