Rare tapestry to go on display in Museum of Liverpool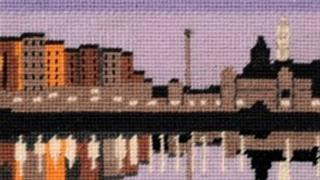 A hand-stitched tapestry created to celebrate Liverpool's year as European Capital of Culture in 2008, is to go on display at the Museum of Liverpool.
The Liverpool Tapestry: People, Places and Passions, was produced by more than 150 people, who hand-stitched 338 individual panels.
The resulting triptych took two years to make and spans over 6m (19ft).
It features iconic images including Superlambananas and the city's historic buildings.
Stitched by the Merseyside Embroiders' Guild, the tapestry also features aspects of Liverpool that have special meaning for the individual embroiderers.
Gill Roberts, from the guild, said: "Over the course of 25 workshops we worked with people of all ages from across the city, who each brought their own inspiration and unique ideas to the project.
"The work is so delicate and skilled that it took a long time to pull it all together, but I know people will be impressed by the hard work that went into the tapestry, and the finished result is breathtaking."
Janet Dugdale, director of the Museum of Liverpool said: "The Liverpool Tapestry is a great example of the reason that the Museum of Liverpool is here.
"The exhibitions and displays continue to be created for and by the people of this city, told through their passion for the place they live. The tapestry follows this ethos perfectly."
The tapestry will be on display at the museum from Friday until 9 September.