HMS Dragon open to public in Liverpool during visit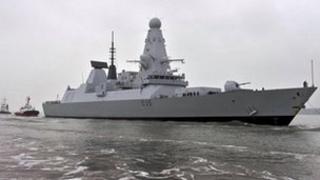 The Royal Navy's newest warship, HMS Dragon, will be open to the public during a visit to Liverpool.
The Type 45 destroyer, which was commissioned into the fleet on 20 April, will be berthed at the city's cruise liner terminal until Sunday.
It is open to the public from 12:00 to 17:00 BST on Saturday.
The ship is the fourth ship of its class that is replacing the older Type 42 destroyers that include HMS Liverpool, decommissioned in March.
Built in Glasgow, HMS Dragon is affiliated to Cardiff and will be based at Portsmouth.
The ship's primary role is fleet air defence and its flight deck can accommodate helicopters up to the size of a Chinook.
A total of six Type 45s are due to be built.