Liverpool elected mayor candidate Peter Tierney charged over protest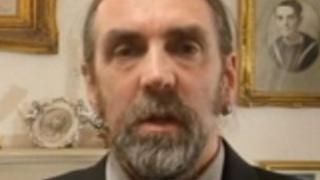 The National Front candidate for the Liverpool mayoral election has been charged with a public order offence.
Peter Tierney, 55, from Hale, Cheshire, was one of four people charged following a protest outside Liverpool Crown Court on Tuesday.
Their protest related to the trial of 11 men accused of being part of a sexual exploitation ring in Rochdale.
Mr Tierney, who also uses Quiggins as his surname, is due to appear before Liverpool magistrates on Thursday.
A spokesman for Liverpool City Council said the charge did not affect his eligibility to stand as a candidate in the election on Thursday.
Merseyside Police said a 38-year-old woman and two men aged 46 and 54 also faced the same charges.
They were arrested after allegedly refusing to comply with an order specifying where protesters can gather.
A 22-year-old man was cautioned for breaching a notice under the Public Order Act and a 16-year-old boy from Netherley was given a youth reprimand for the same offence.
A seventh person - a 32-year-old man - who was arrested for taking photographs inside the court building has been cautioned.