Grand National: RSPCA urges scrap Becher's Brook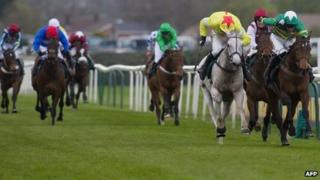 The RSPCA is calling for the Becher's Brook fence to be scrapped from the Grand National course.
The animal welfare charity wants to meet Aintree management to review the race's safety following the death of two horses last month.
Its report said the event needs a smaller and better qualified field without "killer fences".
A racecourse spokeswoman said it would not comment until the completion of its own review of the race.
On Tuesday, a British Horseracing Authority (BHA) report into this year's race said the deaths of Synchronised and According to Pete could not have been "foreseen" nor "prevented".
But in response Gavin Grant, chief executive of the RSPCA, said: "Despite safety improvements the Grand National is still too risky for the horses. It's the unacceptable face of racing. We must not see horses dying year after year."
He said he wanted an urgent meeting with the BHA and Aintree authorities.
'Experienced jockeys'
The RSPCA had a former jump jockey stationed near Becher's Brook at this year's race, who contributed to its seven point report which is calling for:
• Reduction of the number of starters and restriction of the race to experienced horses and jockeys.
• Removal of Becher's Brook.
• Re-design of the core of fences.
• Levelling of drop landings on fences.
• Changing the start.
• Horses that bolt and unseat jockeys to be automatically withdrawn.
• Positioning of horse catchers and communications to be urgently reviewed.
A spokeswoman for Aintree said: "The statement from the RSPCA also coincided with an announcement from the BHA which detailed there was no blame for accidents in this year's race."
She added: "We will be making our own statement once our review is complete."
'Huge drop'
Becher's Brook takes its name from Captain Martin Becher, who fell from his mount, Conrad, in the first official Grand National in 1839, and took shelter in the brook to avoid injury.
With a 6ft 9ins drop (2.02m) jockeys say the fence is like "jumping off the edge of the world".
Riders jump the face twice in the race as the sixth and 22nd fence respectively.
Synchronised fell first time round this year but continued riderless for another five fences before fracturing his leg.
Overall at Aintree's fences there have been 20 equine fatalities from a total of 840 runners in the last 22 races since the course was remodelled in 1990