Cammell Laird wins Western Ferries shipbuilding contract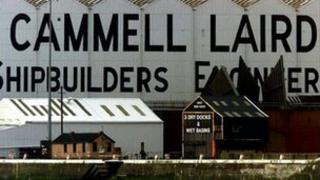 Cammell Laird has won a multi-million pound contract to build two car ferries for a Scottish operator.
The Birkenhead shipyard was named as the preferred bidder to build the vessels for Western Ferries' Gourock to Dunoon route in May.
Work will begin shortly with both vessels due to be delivered to the Firth of Clyde in August 2013.
Western Ferries said it trusted Cammell Laird to deliver the highest quality of build, on time and to budget.
Managing director Gordon Ross said: "These new ferries will be larger, faster and substantially more fuel efficient than the vessels they are replacing."
'World class workforce'
He said the faster ferries would also allow them to increase crossings during peak periods.
Cammell Laird chief executive John Syvret said the firm was delighted to win the contract.
The Birkenhead yard was founded by William Laird in 1824.
After its closure in 1993, part of the site was used by Coastline Group as a ship refit and repair facility.
The firm went into receivership in 2001 when a contract to refit Italian cruise ship Costa Classica was cancelled.
Northwestern Shiprepairers & Shipbuilders took over the yard in 2005 and, using the Cammell Laird name, has since won several contracts to refit and overhaul ships.