Power station walkout in Runcorn in row over local jobs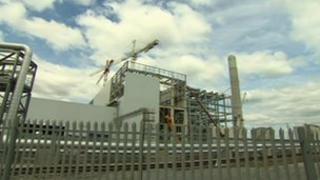 Hundreds of workers at a power station construction site in Runcorn have walked out in a row over local jobs.
The GMB union said a firm involved in building a power station near the Ineos Chlor chemical plant had broken an agreement over local recruitment.
The walkout followed a protest by about 30 people who claimed too many men were being employed from outside Cheshire and Merseyside.
Talks between the firm involved, Kaefer C & D Ltd, and the GMB are ongoing.
The company is one of several contracted to work on the power plant by project leaders Keppel Seghers.
The GMB said it was the only one which had broken the agreement to hire local labour first.
Kaefer C & D Ltd declined to comment.
'More balanced'
A spokesperson for Keppel Seghers said: "We confirm that a contractor of the energy-from-waste combined heat and power plant project Kaefer C & D Ltd and union officials are holding discussions regarding the industrial action, in which about 400 workers participated.
"We are helping to facilitate the talks between the relevant parties for them to come to an amicable resolution soon."
Andy Dunn and his son Joe live within two miles of the site and have been trying to get work there.
Both are qualified insulation laggers who have been out of work for several months.
Joe Dunn said: "We've been phoning up weekly like we've been told, we've also had confirmation from the HR departments saying that our CVs are going to the relevant site managers and also to other sites as well.
"From my house to the site is a 10 minute walk. So when you wake up and see it every day it just frustrates you even more. You just feel like you should be on the job, earning money."
The men, who have travelled to other areas for work, said they would pull out if there was a local tradesman available to do the job and want the same to happen in this case.
Andy Dunn said: "We have made the decision to come away from the job to let local men on.
"That's the system, we know that and we just want that system to work in this area."
James Farnworth, a GMB steward who works on the site, said: "These men [who are protesting] have the total sympathy of all the workers here.
"I think it's a very unfortunate situation, one we would normally try to avoid, but these guys felt they had no option but to make their feelings known.
"It's an easy one to resolve - get the workforce more balanced in favour of local men."
The power station will be used to turn non-recyclable waste into energy for Ineos Chlor, which is a chemical producer and a PVC manufacturer.