Runcorn walkout: Workers end industrial action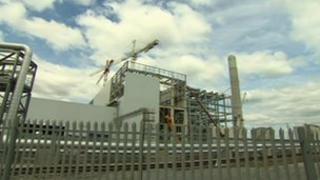 Industrial action taken by workers involved in building a power station in Cheshire has ended after talks between management and union officials.
Hundreds of people working on the construction site near the Ineos Chlor chemical plant in Runcorn walked out on Tuesday in a row over recruitment.
It came after claims subcontractor Kaefer C & D had broken its agreement to hire local labour first.
The company said it had recruited 14 people "within travelling distance".
The walkout followed a protest by about 30 people who claimed too many people were being employed from outside Cheshire and Merseyside.
'Satisfactory conclusion'
A picket line was formed again on Wednesday morning but the issue was resolved soon afterwards.
GMB union shop steward James Farnworth said there had been a "satisfactory conclusion".
The power station will be used to turn non-recyclable waste into energy for Ineos Chlor, which is a chemical producer and a PVC manufacturer.
Kaefer C & D is one of several companies contracted to work on the plant by project leaders Keppel Seghers.
Speaking on Tuesday, the GMB said Kaefer C & D was the only firm which had broken an agreement to hire 80% of its workers from Merseyside and Cheshire.
Kaefer C & D director Paul Hoyle said: "To date we have recruited 14 individuals for work on the above contract all of whom reside within the daily travelling distance of the site.
"Kaefer C & D recognise the importance of this project to the local community, and will always wherever possible recruit suitably qualified local labour."