Liverpool shooting: MP calls it 'unacceptable violence'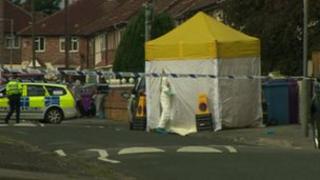 A double shooting in Liverpool in which one man died and another was wounded is completely unacceptable violence, a local MP has said.
Joseph Thompson, 32, from Norris Green, died and a 27-year-old man was critically injured in the shooting on Ravensthorpe Green in Norris Green.
Merseyside Police are investigating whether it was the latest in a series of gang-related shootings.
MP Stephen Twigg organised a meeting between community leaders earlier.
The West Derby Labour MP said: "The violence that we have seen this week is completely unacceptable.
"What local residents are saying to me today is that they want rapid action by the police and by the authorities to deal with this and to find the culprits."
Armed police have been patrolling the area since the incident took place early on Thursday, in marked and unmarked cars.
Detectives have urged anyone with information to contact them and have said anonymity can be protected.
A post-mortem examination revealed Mr Thompson died from multiple wounds.
Police said he was known to them and the attack was targeted.
The younger man who was shot remains in hospital where his wounds are no longer believed to be life-threatening.
Local residents have said they are in fear of their safety.
One man told the BBC: "I've got kids myself and I don't want to be bringing them up around here where there is shootings going on.
"It could happen to one of them like what happened to Rhys Jones, a kid could come out playing football and he could get shot as well."