Jane Kennedy is Labour police commissioner candidate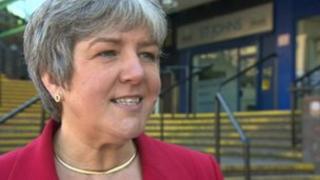 Former Liverpool Wavertree MP Jane Kennedy has been selected as the Labour Party candidate for Merseyside's police commissioner.
She beat the current police authority chairman Bill Weightman and former Liverpool Walton MP Peter Kilfoyle.
Commissioners, to be elected in England and Wales in November, will oversee the work of police, which ministers say will make forces more accountable.
Mrs Kennedy said she would build public support for the police and their work.
"I am delighted to be Labour's candidate. I will work hard to win the support of the people of Merseyside too," she said.
"I will hold the chief constable and his officers to account but I will also build public support for the police and the work that they do.
"I will fight privatisation and make a strong case for more resources for Merseyside."
Ms Kennedy was elected after receiving a total of 974 votes from Labour Party members.
Her nearest rival Peter Kilfoyle received 833 of the votes.
The other political parties have yet to announce their candidates for the new post.
As well as overseeing the work of the police, commissioners will also be tasked with setting budgets.
Police and crime commissioners will be elected in 41 areas across England and Wales on 15 November.