Joseph Thompson tributes in Norris Green removed by police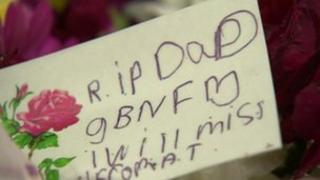 Flowers left at the scene of a fatal shooting in Liverpool have been removed by police amid fears they could raise tensions in the area.
Joseph Thompson, 32, who was known to police, was shot dead on Ravensthorpe Green in Norris Green last Thursday.
Since then, a large number of flowers, scarves and photographs have been left at the spot where the gunman struck.
Police said in such cases, tributes could increase anti-social behaviour by becoming a meeting place for gangs.
Detectives are now investigating whether Mr Thompson's death was the latest in a series of gang-related shootings.
Ch Supt Jon Ward said the tributes had been removed following concerns from local residents.
He said: "Family members and friends have had several days to pay their tributes to the victim, but due to concerns raised within the community it was decided to remove the tributes as they have potential to raise tensions in the area.
"Any non-perishable items recovered from the tributes - these include scarves, cards and photographs - will be given to the family of the victim.
"We have listened to concerns raised within the community and have acted upon them. We want the area to get back to normal as quickly as possible and we will continue to take robust action against those involved in gun and gang crime."
Mr Thompson, from Norris Green, was shot at about 01:00 BST on 14 June and died at the scene. A 27-year-old man was also shot and was taken to hospital with critical injuries.
Armed police have been patrolling the area since the incident took place.
Anyone with information is being urged to contact police.