Alligator and snakes seized in Cheshire Police raids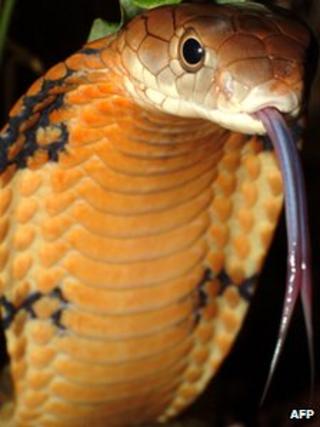 Poisonous snakes and an alligator have been seized by Cheshire Police in a series of raids.
The first snake was found by officers during a raid on a cannabis factory in Runcorn.
Subsequent searches at another house in Runcorn and a shop in Warrington saw an alligator, several cobras and a rattlesnake seized.
They were removed by Halton Borough Council officers, who could prosecute under the Dangerous Wild Animals Act.
A 33-year-old man was bailed by police in Widnes after being detained on suspicion of cultivating cannabis, abstracting electricity and possessing dangerous wild animals.
Police confiscated 60 cannabis plants when they raided a home in Allen Road, Runcorn on Friday.
'Extremely dangerous'
Officers said that a live venomous snake and a number of tanks with snakes in were also found at the house.
Wildlife officers and specialist reptile-handling staff were brought in by Halton Council to deal with the animals.
Police and council officials then searched another house in Runcorn, and two shops - one in Widnes and one in Warrington.
Officers found an alligator and a snake at the house in Goldcrest Close, Runcorn, before finding a king cobra, three monocled cobras and a rattlesnake while searching a shop in Padgate Lane, Warrington, with council officials.
Inspector Dave Gordon said: "Some of the animals seized are extremely dangerous, indeed potentially lethal, they have been taken to a safe location where they will remain for the time being in the care of reptile specialists."