Liverpool fan denies racist slur towards Patrice Evra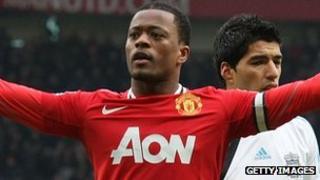 A football fan who allegedly aimed a racially offensive slur towards Manchester United's Patrice Evra, has appeared in court in Liverpool.
Phillip Gannon, 58, was also shown on television making a gesture with his hands, magistrates in Liverpool heard.
The incident allegedly took place during a match between Liverpool and Manchester United at Anfield.
Mr Gannon, from north Wales, denies the gesture was racially motivated.
Rob Girvan, prosecuting, said the incident in January happened during a "volatile" atmosphere at the stadium during the FA Cup tie.
It was the first game between the Premier League rivals following an eight-match ban imposed on Liverpool's Luis Suarez after the FA found him guilty of abusing the Manchester United defender.
'Unaware of connotations'
Mr Gannon is alleged to have aimed a racist slur towards Evra from the stand in French.
Complaints were made to police about the alleged racially offensive gesture after the tv images spread across social networking websites.
The court heard Mr Gannon, a carpenter and joiner from Barmouth, Gwynedd, was sat about eight rows back from the pitch during the match.
A witness told the bench Mr Gannon repeatedly shouted a term of abuse, found offensive by the travelling community, at Manchester United fans.
The defendant said at the time he was unaware of the connotations of the term he used.
John Inman, a Liverpool season ticket holder who was attending the match, told the court Mr Gannon "seemed to spend more time shouting abuse than actually watching the game".
Mr Inman and his son Sam said they saw Mr Gannon stand up and make gestures in reference to the Munich air disaster and heard him shout abuse towards disabled supporters.
Mr Gannon denies two counts of using abusive or insulting words within the hearing or sight of a person likely to be caused alarm or distress.
The trial continues.