Restored Garden Festival site opens to the public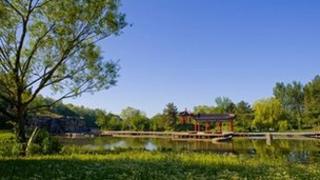 Liverpool's restored garden festival site has opened to the public.
The 90-acre venue in Otterspool hosted the International Garden Festival in 1984 but has been derelict since 1997.
It has undergone a £4.5m redevelopment with its original features such as Chinese pagodas, Japanese gardens and water features restored.
The park, now known as Festival Gardens, was redeveloped by Langtree but will be managed by The Land Trust.
The Land Trust chief executive, Euan Hall, said: "The people of Liverpool have a wonderful new asset on their doorstep and for that they should thank Langtree.
"It has taken a lot of goodwill and blood, sweat and tears to get to this point but we expect everyone to be thrilled with the results.
"The gardens are utterly beautiful and will be a significant draw for the local area, the city and indeed the region."
More than three million people visited the International Garden Festival, which was billed as a "five-month pageant of horticultural excellence and spectacular entertainment".
Built on a former refuse dump it contained more than 60 individual gardens from countries around the world, a festival hall, public pavilions and miniature railway.
The site has been derelict since 1997 when Pleasure Island, a leisure and entertainment facility that occupied the site, closed.