Wirral Council officers suspended over highways contract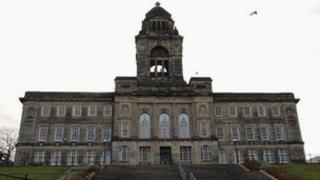 Three more senior Wirral Council officers have been suspended amid concerns over the way a £40m contract for highways maintenance was awarded.
The Audit Commission found "significant failings" in procedures.
Acting Chief Executive Ian Coleman, finance director David Taylor-Smith, and law boss Bill Norman were suspended pending inquiries. Highways chief David Green was suspended in March.
Councillors said the authority must address failings "honestly and openly".
The council's former chief executive, Jim Wilkie, announced he was taking early retirement the day before a report into the awarding of the council's Highways and Engineering Services contract was published earlier in June.
Relationship not declared
The report found Mr Green met the winning bidder to discuss the contract before tenders were submitted and only declared a personal relationship with the representative after they were awarded the contract.
This was investigated twice by the council and each time it found no further action was required.
Concerns over the way the contract was awarded were raised by staff and an internal investigation was carried out - but staff were not satisfied with the results of that inquiry.
Birkenhead MP Frank Field referred the matter to the Serious Fraud Office and District Auditor.
The Audit Commission's report warned the Labour-controlled council it must improve in its compliance with contract procedure rules, demonstrating good value for money, reporting to elected members and dealing with whistleblowers.
A council spokesman said the suspensions were a "neutral act", to allow a robust investigation.
Leader of Wirral Council, Labour Councillor Phil Davies, said: "In order to move the council forward it was necessary to address honestly and openly where failings had occurred in the past."
'New culture'
He said the move had been backed by fellow party leaders, Councillor Jeff Green of the Conservatives and Lib Dem Councillor Tom Harney.
"I have made it clear for some time that Wirral Council must be open and transparent and hold people to account where necessary," said Mr Green.
Mr Harney added: "We will not make progress unless we face up to some of the things that have gone wrong and put in place a new culture and a better way of working together."
David Armstrong, interim director of children's services, will assume chief executive responsibilities until an interim chief executive is in post.
The deal under review was set up in an attempt to bring several contracts together to cut costs.
The council previously had a number of small contracts covering issues such as road maintenance and street lighting, and the HESPE contract brought all those elements under one large contract.