Hillsborough files to be unveiled at Liverpool Cathedral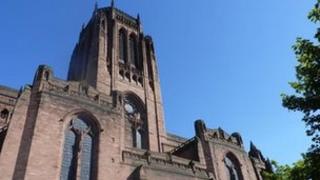 The public disclosure of secret Hillsborough files will take place at Liverpool's Anglican Cathedral, the Bishop of Liverpool has announced.
The Hillsborough Independent Panel has analysed more than 400,000 pages of documents from 80 organisations relating to the disaster.
It is due to make its findings public on 12 September.
Families of those who died hope the panel's findings will shed new light as to exactly what caused the tragedy.
The Bishop of Liverpool the Rt Rev James Jones, who chairs the panel, said the documents will be disclosed to the families before being made public.
Ninety-six Liverpool fans died following a crush on overcrowded terraces in Sheffield during an FA Cup semi-final tie on 15 April 1989.
A report by Lord Justice Taylor, published in 1990, found that the main reason for the disaster was a failure of "police control".
The panel, set up by the government in 2010, has emphasised that one of its central objectives has been consultation with the bereaved families.