Lord Mike Storey wants cruise terminal cash returned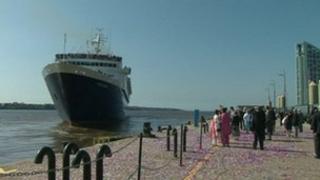 A Liverpool peer has called on the government to restore an £8.8m grant it recalled as part of a deal to let cruise ships be based in the city.
The city council was told to return the regeneration money it spent on building the Pier Head cruise terminal in 2007.
This was a condition of being given the lucrative "turnaround" status, which allows liners to begin and end journeys there rather than just stop off.
Ex-council leader Lord Mike Storey said the region still needed the money.
Liverpool councillors had mounted a long campaign arguing that refusing Liverpool "turnaround" status was a restraint of trade that could cost the Merseyside region £100m a year.
'Very fragile'
Rival port Southampton argued it would be unfair for Liverpool to get "turnaround" status as it had used public money to build the terminal.
Within weeks of Transport Secretary Mike Penning giving his approval to the status change, the first cruise to start at the Pier Head since 1972 set off on 29 May.
Lord Storey, a Liberal Democrat peer, said: "Liverpool and Merseyside, as one of the poorest regions of Europe, was given Objective One money to regenerate Merseyside.
"One of the projects we funded was the cruise liner facility, for cruise liners to come to Liverpool.
"What I'm saying is that the original money given by Europe and the North West Development Agency was for regeneration.
"So ok, we want that money back for other projects in the city.
"I mean Liverpool is doing well but it's still a very fragile doing well and there are many other schemes that that money could be urgently used for."
He added: "You only have to look round the city to see that there are areas that you could regenerate to create jobs and opportunities.
"Give us that money and we can spend it on other much needed projects."
A Liverpool City Council spokesman said: "We are pleased we have reached an agreement with government and we are now concentrating on making sure we can maximise the potential of the terminal."