Royal Liverpool Hospital: Date for new building confirmed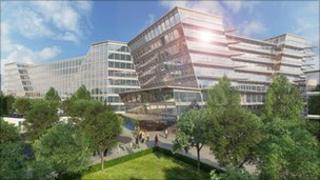 Building work is to start next spring on Liverpool's new £450m hospital, the government has said.
Health minister Simon Burns confirmed to city MPs Louise Ellman and Luciana Berger that construction work will start in either March or early April.
The new hospital will replace The Royal Liverpool University Hospital, which was built in the 1970s.
The project, which will be funded under a Private Finance Initiative (PFI), is due to be completed by December 2016.
Liverpool Riverside MP Mrs Ellman (Labour), who organised the meeting, said: "I am hugely reassured by the Department of Health's go-ahead with a firm timetable for completion.
"The new Liverpool Royal is vitally important both for improving health services in the city and region, but also for the regeneration of Liverpool."
She added: "Independent analysis show that it will bring jobs and expertise and has a potential impact on the Liverpool economy of £60m a year.
"The inclusion of a world-class bio-medical research facility will underline the city's reputation for excellence and will strengthen the city's biomedical sector and Liverpool's global reputation for scientific excellence."
The plans had been dogged by a legal challenge from campaigners who claimed the PFI scheme was financially flawed.
This challenge was abandoned in February 2011.