Beaten Crosby bike boy was 'innocent victim of brutal attack'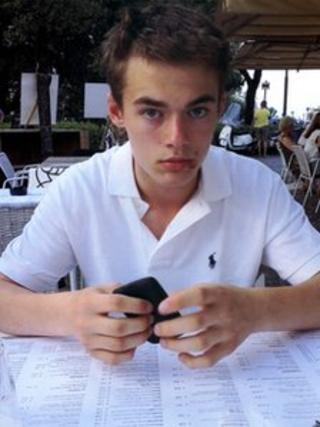 The parents of a boy critically ill after an attack in Crosby in which his bike was taken said he was an "innocent victim of a brutal unprovoked attack".
Marcos Ringle, 16, suffered serious head injuries during the attack in Coronation Road at 03:45 BST on Sunday.
His Reebok bike, a present for his 16th birthday on Thursday, was found unattended in Roxburgh Street, Kirkdale, on Monday.
Det Chief Insp John Roberts said it was a "ferocious and prolonged" attack.
In a statement, Keith and Anne Ringle said the assault had devastated the family.
Mr and Mrs Ringle said they were at his bedside "praying for him to make the best recovery possible".
"Marcos is a normal 16-year-old boy who is a much-loved member of a close family," the statement said.
"[He] has never been in trouble with the police and is not at all streetwise. He has just left secondary school and has hopes to go to catering college in the future."
Merseyside Police want to speak to two men and a woman in connection with the assault.
Officers are appealing for a woman, aged between 40 and 50-years-old who was seen talking to a man with a bike on Roxburgh Street at about 07:00 BST on Sunday to contact them.
They also want to speak to two men thought to be in their mid-20s and casually dressed.
Det Insp David Keegan said: "I believe the bike may have been pushed or ridden from the scene of the assault on Coronation Road in Crosby by one or two men through to Delamore Street in Kirkdale and eventually on to Roxburgh Street.
"I would also ask that anyone living in or commuting through the Crosby, Waterloo and Kirkdale areas that may have seen a bike being ridden or pushed around this time to contact me as they may have information vital to this investigation," he said.