Joey Barton faces no action over Liverpool street fight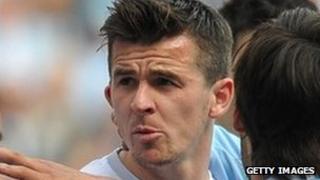 No further action will be taken after four men, including footballer Joey Barton, were arrested following an alleged fight in Liverpool.
Barton, 29, was detained along with two 21-year-old men and a 20-year-old man after the incident outside Garlands nightclub in Eberle Street on 4 June.
His club, Queens Park Rangers, said two men sang offensive chants at the player and then punched him.
Officers said all four men have been told they will face no further action.
'Life goes on!'
Merseyside Police said the decision came after advice from the Crown Prosecution Service.
Following his arrest, the midfielder tweeted: "I got sucker punched in the back of the head. Not injured as reported just a small bruise on rear of head/ear.
"I've had worse. Life goes on! Thanks for the concern. Have a good day people."
Barton joined QPR in August last year on a free transfer from Newcastle United.
The player was banned for 12 matches after being sent off in Queens Park Rangers' defeat at Manchester City on the final day of the Premier League season.
He was also fined £75,000 for the incident at the Etihad Stadium after being found guilty of violent conduct by The Football Association.