Man United fans' ticket allocation cut at Anfield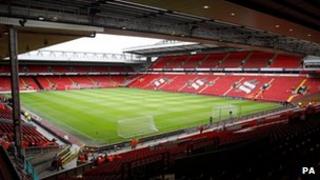 Fewer tickets will be available for Manchester United fans when their team plays at Anfield or Goodison Park this season, it has been confirmed.
Liverpool City Council approved plans to reduce the ticket allocation due to health and safety concerns caused by away fans standing in gangways.
It is the second season the council's licensing committee has reduced the allocation at Anfield.
Last year the number was cut from more than 3,000 to 1,965.
'Up to fans'
It came after the issue of fans standing in the gangways was raised at a meeting of the Ground Safety Advisory Group.
The exact ticket allocation figure for this season at Anfield will be fixed by the club, but it is expected to be similar to the one set last year.
The number of tickets available for United fans at Goodison Park will be reduced by 26.
The decision will continue to be reviewed by the head of licensing.
Licensing committee chairwoman Christine Banks said: "All I can say is, it is just for the health and safety of the fans, not stopping their enjoyment of watching the match.
"This is just changes for the forthcoming season, but beyond that if those fans don't stand in the gangways then they will get their ticket allocation back.
'Influence the behaviour'
"It's up to the fans now."
Chairman of the Football Supporters' Federation Malcolm Clarke said it was important that fans are kept informed.
"I pay tribute to the Liverpool licensing committee for having a discussion about this this morning," he said.
"The benefit of that is that the Manchester United supporters will endeavour to influence the behaviour of their supporters, so the gangways aren't blocked, and everybody can be a winner in this hopefully."