Sonae chipboard factory could face closure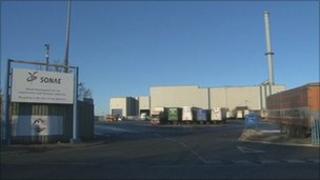 The Sonae chipboard plant in Merseyside could close, with the loss of 220 jobs.
Sonae Industria (UK) Ltd announced it was to start a consultation with employee and trade unions about the future of its Knowsley factory.
Three contract workers have died at the site in the past three years, and a large fire caused extensive damage last year.
The company said delays in rebuilding the site after the blaze had led to reduced production levels.
Managing director Nigel Graham said the delays have been caused by "political and planning difficulties".
'Loyal workforce'
He said: "It is with great sadness and regret that after 12 years of operating in Knowsley, consultation will commence on the future of this factory.
"This will affect us all. It will be of little consolation, but at this difficult time, I would personally like to thank our loyal workforce for their ongoing hard work, loyalty and dedication.
"We will be focusing on talking to employee and union representatives, customers and suppliers regarding the next steps."
Thomas Elmer, 27, and James Bibby, 24, both from Waterfoot, Lancashire, died in an accident involving a giant silo at the factory in December 2010.
Both men worked for a company which maintains machinery at the factory.
A large fire started in a woodchip storage bunker at the factory last June, following which demolition worker James Dennis Kay, 62, from Heywood, Greater Manchester, died.
He had been working for sub-contractor Andrew Connolly Demolition, which was responsible for demolishing a section of the site damaged by the fire.
George Howarth, the Labour MP for Knowsley, has previously called for the site to be permanently closed as it posed "a considerable risk" to the public, workforce and fire service.