Liverpool Mathew Street festival-goers' drinks tested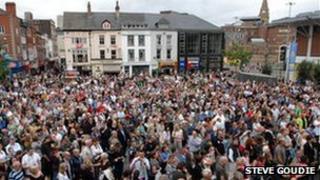 Festival-goers under 18-years-old in Liverpool will have their drinks tested for alcohol, the city council said.
The tests are parts of a campaign to clamp down on problem drinking at the August bank holiday Mathew Street Festival.
Drinking in public is temporarily allowed at the two-day festival, but in 2011 the council received complaints of young people drinking at the event.
Police said they will use chemically treated dipstick cards to check drinks.
The council said anyone aged under 18 found with alcohol will be asked to dispose of it.
The Mathew Street Festival is an annual pop and rock music event in Liverpool City Centre. The free two-day event features over 80 hours of live outdoor music.
This is the first year it will feature an alcohol-free area.
Merseyside Police Supt Simon Irving said: "Drinking of alcohol in the street will only be allowed within designated areas and the city council by-law which bans the drinking of alcohol in the street will be strictly enforced in the other areas of the city centre."