Warehouse plan could create 1,000 jobs in Liverpool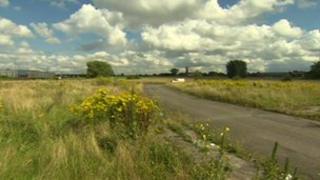 An enormous warehouse which would create up to 1,000 jobs in Liverpool could open as soon as autumn 2013.
A "global firm" is believed to be behind the plan for the one-million sq ft depot in Stonebridge Cross, Gillmoss.
Some residents feared the scheme might jeopardise an earlier idea to build new homes and a school.
Croxteth councillor Peter Mitchell said if the warehouse is built, the new homes would still go ahead.
He said: "It's an area that has been neglected for a long, long time. I don't want to disappoint people but the [company] have a very keen interest in the site.
"Planning permission has not been submitted yet and no contracts have been signed so nothing is confirmed. At this stage outline plans are being negotiated with Liverpool City Council."
He said the scheme could take shape very swiftly if permission is given and the warehouse could be in operation by autumn 2013.
The planning application for the council-owned site is due to be submitted at the end of August and two public consultation events have been held to discuss proposals.
Mir Mitchell said: "There are still lots of unanswered questions and some residents have expressed concerns about having such an enormous warehouse in the middle of their community.
"Whatever happens we will be delivering a new school, supermarket and new homes somewhere close to the site. There is plenty of spare land."
Liverpool mayor Joe Anderson said it was "good news for a part of Liverpool that desperately needs jobs".
'Game changer'
Mr Anderson said: "This is a hugely exciting proposal which has the potential to be a real game changer for this part of the city.
"It will create over a 1,000 quality jobs on a scale which has not been seen for many decades."
Liverpool City Council will not reveal the name of the company and a spokesman said reports suggesting it was online retailer Amazon was "pure speculation".
A spokesman for Amazon said: "We do not comment on rumour or speculation."