Sonae chipboard factory planning row could be resolved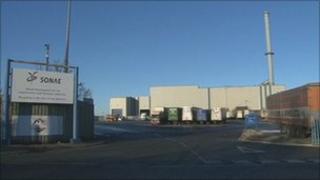 A planning row which has threatened the future of the Sonae factory in Merseyside could be resolved this week.
Councillors are to decide whether an industrial unit, built at the site in Kirkby last year, can stay.
The application for the "flaker hall" was first submitted by Sonae Industrial (UK) Ltd after a fire severely damaged part of the factory last June.
Despite objections, the firm went ahead with construction and is now seeking retrospective planning permission.
Sonae announced last month that it was to start a consultation with employee and trade unions about the future of the factory.
It said the reason for its possible closure was reduced production levels, caused by delays in rebuilding the factory after the blaze.
Managing director Nigel Graham said the delays were caused by "political and planning difficulties".
The application seeks permission for the retention of a 42m (137ft) long, 25m (82ft) wide and 14m (46m) high flat roof building.
The development is currently operating at the site and has been recommended for approval.
Knowsley Council planners are set to consider the application on Thursday.