Bid to tackle Croxteth gang culture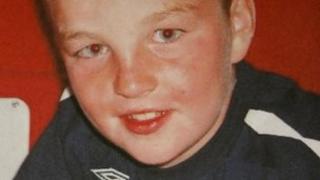 It was a killing that shocked the nation. On 22 August 2007, 11-year-old Rhys Jones was caught in the cross fire between two rival gangs on his way home from football practice.
He was shot in the car park of the Fir Tree pub in Croxteth, Liverpool near to the field where he had been playing football minutes earlier.
Five years on from the shooting, community groups are using sport and arts to tackle gang culture.
Youth worker Lee Donafee, who runs activities in Croxteth to keep teenagers from different areas together after they leave school, said: "They went to school together and they were friends and then they go on to the streets and they become enemies."
North Park Junior Football Club coach Dave Leader said: "The emphasis is really on motivating the kids and getting them to create a team within football rather than gang culture."
'Opening their eyes'
In 2008 18-year-old Sean Mercer, a gang member from Croxteth, was jailed for life for killing Rhys.
Six other gang members were also jailed for trying to cover up the crime.
Merseyside Police said that they were sending out the message to young up and coming gang members involved in gun crime and were working with communities in an effort to make the streets safe.
Labour Councillor for Croxteth, Peter Mitchell, said: "It's about opening young people's eyes to a different world.
"When you open people's eyes you take them away from being involved in things that aren't healthy for them."
He said plans for a £600,000 community sport centre on the site of the Fir Tree Pub would be unveiled in the autumn and would feature all-weather sports pitches, a grass pitch and children's play area.
Other planned schemes include free art and theatre sessions run in conjunction with Cobalt Housing, the Bluecoat arts centre and Liverpool Everyman Playhouse Theatres.
The housing association, which has about 5,000 homes for rent in the area, has received £45,000 of lottery funding for an art project for 18 months.
Rachel Wright, Cobalt Housing community regeneration manager, said: "This arts project will help open up a new world to residents living in these deprived areas which are blighted by isolation, gun and knife crime and anti-social behaviour.
"This is about getting these communities involved, learning and laughing together and building community spirit."