Councillors approve Sonae factory planning application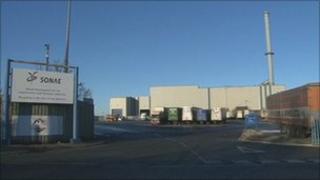 An industrial unit has been given planning permission by councillors, ending a row which had threatened the Sonae factory in Merseyside.
Knowsley Council planning committee voted by 14 votes to four to allow the unit to stay at the site built in Kirkby last year.
The council rejected company claims the application was delayed unfairly.
Sonae, which did not attend the meeting, claimed the delay had wasted resources on all sides.
The application for the "flaker hall" was first submitted by Sonae Industrial (UK) Ltd after a fire severely damaged part of the factory last June.
Despite objections, the firm went ahead with construction and sought retrospective planning permission for the retention of a 42m (137ft) long, 25m (82ft) wide and 14m (46m) high flat roof building.
Following the meeting the council issued a statement saying: "The council absolutely refutes the allegations that consideration of this application has been unfairly delayed and we do not accept that there has been any negative impact on Sonae's business, given that the facility has been operating throughout 2012."
'Waste of resources'
Nigel Graham, managing director, Sonae Industrial (UK) Ltd said: "It is disappointing that a number of councillors saw fit to reject our proposals, despite a clear recommendation to grant planning permission from council officers.
"It is also sad and frustrating that the local MP has been campaigning for our closure and publicly calling for objections against this application.
"This has wasted resources on both sides and has been a contributing factor to our group losing its confidence in continuing to operate in Knowsley. The decision will do little to change the current situation we face."
Knowsley's Labour MP George Howarth tabled a Commons Early Day Motion last year claiming the complex posed "a considerable risk" to the public, workforce and fire service following a series of accidents and fires.
Three contract workers have died at the site in the past three years, and a large fire caused extensive damage last year.