Dingle tunnel collapse families may never return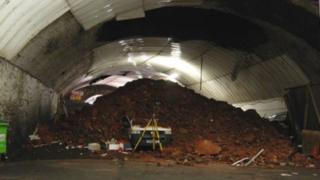 People evacuated after a tunnel collapsed beneath their homes in Liverpool may never be able to return, the council said.
A survey of the disused railway tunnel in Dingle found 11 properties built above it to be "unsafe for the foreseeable future".
Families affected on Sundridge Street, Dingle Grove and Toxteth Grove said they were "devastated".
Liverpool City Council said no decision had been made to demolish the homes.
Several streets in the Dingle area were evacuated on 24 July after the tunnel partially collapsed, causing tons of rock to fall.
The area was re-opened the same day but eleven families on Sundridge Street and Toxteth Grove were told not to return.
Although two families on Toxteth Grove have been told they can now go back, another two households on Dingle Grove have been told to leave.
Tracey Mors, 51, who has lived for 12 years in Sundridge Street said: "I am absolutely devastated. My world is upside down.
"We can't go in and get our furniture, my belongings. I have lost everything."
In a statement, the council said it would help those affected to find more long-term and possibly permanent homes.
'Safety checks'
Councillor Paul Brant, deputy mayor, said the authority has been giving advice over welfare, benefits and alternative accommodation and has also asked insurance companies to speed up processing claims.
"We will be working with partners to ensure that those residents who require it, are rehoused satisfactorily as soon as possible," he said.
"We will also be arranging for safety checks to be carried out along the length of the tunnel in line with the recommendations of the survey, although it should be recognised that it does not indicate that any other part of the tunnel is considered to be in danger of collapsing."
The survey, undertaken by Liverpool City Council, could not confirm the cause of the collapse in the tunnel which runs for 3/4 miles (1.2km) under Dingle.