Liverpool Welsh Streets residents in new homes consultation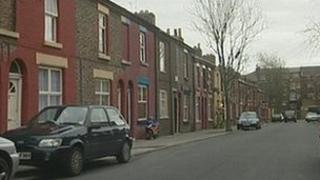 People living in Liverpool's Welsh Streets are being given the chance to have their say on a £15m plan to rejuvenate the area.
More than 150 new homes are to be built on the site of the streets in the Dingle and Toxteth areas, and 32 terraced houses will be refurbished.
Those to be refurbished include 9, Madryn Street, the birthplace and childhood home of Beatle Ringo Starr.
A total of 32 homes on Madryn Street and Kelvin Grove will be revamped.
Four hundred other homes in the area will be demolished as part of Liverpool City Council's regeneration plans.
As part of the council's proposals with housing association Dane Plus, consultations will be held at Toxteth Town Hall next month.
'Really excited'
Residents will be given the chance to view the plans and hold discussions in small groups to "help create a new brand and identity for the Welsh Streets".
The city council's cabinet member for housing, Ann O'Byrne, said: "We have been working closely with the community for many years on these plans, and we want to make sure local people continue to be at the heart of the decision-making process as we reach this final consultation stage.
"We are really excited about these proposals, because we believe they will revitalise the Welsh Streets.
"They are focused on delivering the type of homes that people have consistently told us they want to live in, houses with gardens and driveways in a vibrant, attractive neighbourhood."
She added: "Everything we are doing is aimed at building a brighter future for the area, so we hope local residents will get on board, have their say and support these plans."
The Welsh Streets were built in the late 19th Century when there was an influx of Welsh people who came to Liverpool to work as dockers.
Following the consultation, a final planning application will be submitted.