Liverpool Central Station reopens after £20m upgrade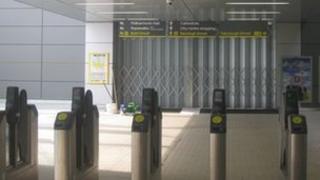 Liverpool Central train station has partially reopened after the completion of the first phase of a £20m revamp.
The underground station closed in April while work was carried out to refurbish the concourse and facilities, making it "lighter and brighter".
The Wirral line platform has now reopened but passengers using the Northern Line will not be able to use the station until 22 October.
James Street station is set to close for a refurbishment next month.
Merseyrail said the next stage of its improvements to underground stations will start on 3 September, when platform one at James Street will close until January 2013.
'Heightened demand'
The closure means passengers coming into Liverpool on the Wirral line can get off at Liverpool Central, Moorfields or Lime Street.
Alternatively, they can stay on the train, go around the loop and then get off at platform 3 at James Street, adding eight minutes to the journey.
Liverpool Central has the highest footfall on the Merseyrail network and is one of the busiest stations outside London.
It has 18m passengers per year, with an increase of 40% expected by 2020.
The improvements have been funded by Network Rail, Merseyrail and the Department for Transport, among other sources.
Karen Hornby, area manager for Network Rail, said: "Central had not had any significant refurbishment work for 35 years and as more and more passengers are using the rail network, upgrading the station was essential.
"We're confident that the improvements made to the platform will help us deal with this heightened demand and that people will enjoy the modernised facilities."
Maarten Spaargaren, managing editor of Merseyrail, said: "We strongly believe that passengers will benefit from its enhanced facilities and find the station lighter and brighter.
"It will be a vast improvement for workers, students and people accessing leisure facilities in the heart of the city.'