Oliver King death prompts Liverpool lifesaver pledge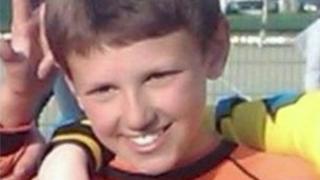 Every primary school in Liverpool is to get a defibrillator following a campaign prompted by the death of a schoolboy who had a heart condition.
The £100,000 project will see the lifesaving devices issued to 122 schools over the next academic year.
Training will also be provided for school staff.
Oliver King, 12, a pupil at King David High School in Childwall, died during a swimming lesson from Sudden Arrhythmic Death Syndrome (SADS) in March 2011.
A defibrillator is a device that uses electric shocks to stop a heart that is beating irregularly in the hope of restoring a regular heartbeat.
'Fantastic news'
Oliver's dad Mark, who set up The Oliver King Foundation, said: "This is fantastic news and I firmly believe that it will help save lives."
Liverpool councillor Jake Morrison, (Labour, Wavertree), who is a patron of the foundation, said: "If this scheme saves one child's life, it will have been worth all the effort."
The foundation aims to get the government to install defibrillators in all public buildings by 2017 and also calling for electrocardiogram (ECG) scans for all 14 to 35-year-olds.
Pupils aged 14 to 16 at Oliver's old school, King David High, have been taught how to use a defibrillator and perform resuscitation.
Liverpool City Council has purchased defibrillators for each of its Citysafe vehicles, as well as the Cruise Liner Terminal.