Hundreds take part in Liverpool charity walk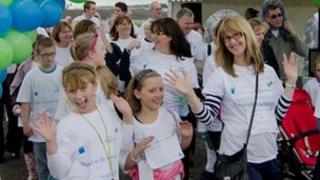 More than 600 people took part in a charity walk at Aintree Racecourse in Liverpool.
The Alzheimer's Society's Memory Walk raised funds and awareness to help people with dementia.
The society said there are 16,000 people living with dementia in Merseyside.
Thelma Madine, dressmaker from Channel 4's My Big Fat Gypsy Wedding, said she was "delighted" to have been asked to start the event.
Fundraiser Fran D'Arcy, said: "Two distances were on offer with a choice of one mile or 10km - when someone has dementia it affects the whole family so the walk is designed for all generations."
Lisa Colqhoun, a manager at Stonedale Lodge Residential and Nursing Home in Croxteth, Liverpool, said: "'We've encouraged our staff, residents' friends and families to support the walk
"It's great to see so many of them taking part."