Prison van escapees to appeal against life sentences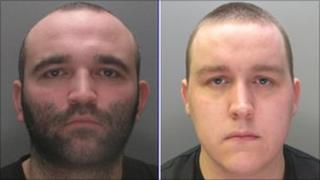 Two members of a gang who were jailed for firearms offences are to appeal against their life sentences.
Kirk Bradley and Anthony Downes, from Huyton, were each given 22 years in their absence after escaping from a prison van on their way to Liverpool Crown Court last year.
Both men were later found in the Netherlands and returned to a UK jail.
The Court of Appeal has confirmed they are both expected to appear before a judge on 1 November.
Both were found guilty in March at Woolwich Crown Court of conspiracy to possess firearms with intent to endanger life and conspiracy to cause damage with intent to endanger life.
Downes was captured in Goes, Zeeland, on 9 March and Bradley was detained on 5 April, in Amsterdam.
The men, who described themselves as "blood brothers" at trial, ran a criminal network between 2009 and 2010.
The gang carried out shootings and operated on behalf of others in the Liverpool underworld.