Nepal plane crash: Timothy Oakes 'always wanted to see Everest'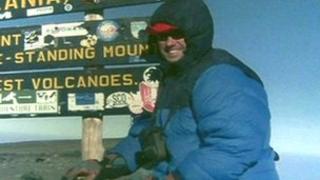 The wife of a Cheshire man who was killed in a plane crash in Nepal said he "died doing something he always wanted to do".
Timothy Oakes, 57, of Winwick near Warrington, was one of 19 people who died when a plane heading for the Everest region crashed in Kathmandu.
Wife Annie Gaunt said the keen mountaineer had always wanted to visit Everest.
She said his death should not put people off "living their dreams".
Mrs Gaunt said: "People have got to live and enjoy what they want to do - that is exactly what Tim would want people to do.
"When you live, if you live your life to the full, you take risks. You can go to work in the morning and get run over by a car."
Mr Oakes, who worked in education, was among seven Britons killed in the crash. He also leaves a daughter Joanna.
The Sita Air twin-engine propeller plane came down minutes after taking-off from Kathmandu for Lukla.
Officials said the aircraft crashed into a river bank and caught fire.
Mrs Gaunt said he had been travelling with his "very close friend", Stephen Holding. Mr Holding, 60, from Barlaston in Staffordshire, also died in the crash.
She added: "It was the trip of a lifetime, he had always wanted to do it."
Paul Dyson-Knight, Lancashire County Council's senior secondary school and post-16 senior adviser and team leader, said Mr Oakes had been "a highly respected colleague who had a successful career in education".
"He joined the advisory service in Lancashire in 2008 and made a tremendous contribution to supporting secondary schools across Lancashire," he said.
"His skills in assisting school leaders to build on their strengths are widely recognised by a great many headteachers and senior staff, and he will be very sadly missed by us all."
He added Mr Oakes had been "always dedicated to helping schools to make a positive difference for their students".