Fish rescued from breached Trent and Mersey Canal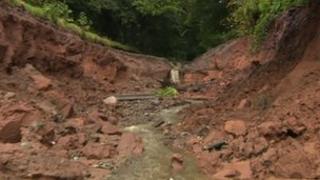 About 60,000 fish have been rescued from a Cheshire canal after a huge section of the bank collapsed.
Part of the Trent and Mersey Canal breached at Dutton, near Preston Brook, after rain caused flooding last week.
The water swept a section of the 200-year-old canal into a nearby farmer's field in the early hours of Wednesday.
A 1.5 mile (2.4km) stretch of the canal has almost dried up, leaving thousands of fish trapped. They are being fished out by the Canal and River Trust.
The operation began on Wednesday and is due to finish on Saturday.
'Counting the costs'
The fish, which include bream, roach and some eels, are being held in fresh water buckets and released safely in another part of the canal.
The waterway, which is run by the Canal and River Trust, will cost about £1.5m to repair and the charity is appealing for donations from members of the public.
The charity, which cares for 2,000 miles of canals, rivers and docks in England and Wales, can pay for the repair bill from its contingency fund but this will divert money from other essential maintenance and improvement works.
Walter Menzies, Chairman of the Canal and River Trust's Manchester and Pennines Partnership, said: "The Trent and Mersey Canal is a huge asset to the local area and an engineering marvel.
"Today we are counting the costs of the deluge and asking local people who love the canal to help us overcome this major problem."