Hawthorne's Free School: Teachers' union rejects offer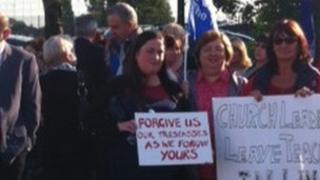 A teachers' union has dismissed an offer by a Merseyside council to settle redundancy payments for staff left without a job after two schools merged.
About 100 staff of St Wilfrid's High, Litherland, and St George of England High, Bootle, lost their jobs when The Hawthorne's Free School formed.
Sefton Council has now to written to them offering to share a settlement payment with the new school's trustees.
But union NASUWT said the offer "falls far short".
Teachers said they were "left in limbo" when their contracts were terminated in August, while the school and the council argued over which was liable for the cost of redundancy payments.
'Pragmatic solution'
The teachers, who said they had been told their contracts would transfer to the new school but were left jobless and without income, vowed to take their case to the High Court.
Now the council and school have proposed to share the cost and offered a sum equivalent to the redundancy pay they would have been due at the time.
Council leader Peter Dowd said: "We have always been very sympathetic towards the people who have been caught up in this legal issue - they were dedicated school staff who just wanted to get the money they deserved when they lost their jobs.
"But this has been a very complex legal issue and we have not been able to speak openly about our concerns for these people in the last few months because of the position we were in."
He added: "I am very pleased that we appear to have found a pragmatic solution to this issue which will not set any difficult precedent for the council in the future.
"If accepted, this settlement would mean that we would avoid a lengthy, and potentially very costly, delay should we have to pursue this matter at the High Court."
'Completely unacceptable'
Chris Keates, general secretary of the NASUWT, said the council had bypassed its continuing negotiations with unions by writing to the staff directly.
He added: "This local authority is continuing to act in a way which is unacceptable and which is prolonging the distress of the teachers involved.
"The offer is completely unacceptable and falls far short of what would be required to settle this dispute."
The union has lodged about 40 employment tribunals, claiming unfair dismissal, redundancy payments, breach of contract and failure to comply with a statutory duty to consult, against the school and council.