Labour's Jane Kennedy wins first Merseyside PCC election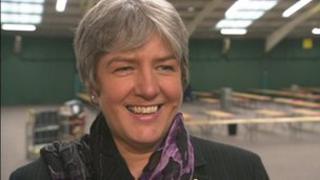 Former Liverpool Wavertree MP Jane Kennedy has been elected as Merseyside's first police and crime commissioner (PCC).
Labour's Ms Kennedy beat five other candidates to win 56.2% of first preference votes.
Liverpool City Council has confirmed 12.4% of the electorate cast a vote.
The PCC, which replaces police authorities, will be responsible for setting Merseyside Police priorities and overseeing the force's budget.
The role also involves hiring or removing the chief constable.
Ms Kennedy won 70,884 of the 126,171 total votes, with second-placed Conservative candidate Geoffrey Gubb receiving 15,870 votes.
'Commitment to democracy'
In her victory speech, she said: "It's an election that probably none of us wanted but I do want to thank all of those who have voted despite the low turnout.
"I appreciate their commitment to democracy in what is an important election."
Ms Kennedy blamed the way the government had run the election for the low turnout, adding: "It's been an absolutely shambolic way of running an election. We knew it was going to be very difficult to get people to turn out.
"From the point of view of a mandate, I will go ahead very conscious that the vast majority of voters on Merseyside turned their back on it.
"That's a message not just for me as a commissioner but for the government that the jury is very firmly out on this.
"I will work extremely hard for the police and the communities they serve to secure the resources that they need and make sure the policing priorities reflect the wishes of the people."
The PCC for Merseyside will be paid a salary of £85,000.
'Tough times ahead'
The government is bringing in the commissioner role - for 41 out of the 43 forces in England and Wales - in what it describes as an effort to make the police more accountable, with a single "figurehead" monitoring performance.
Founded in in 1974, Merseyside Police covers an area of 250 sq miles (650km) and serves about 1.5m people.
The chief constable is Jon Murphy who joined the force as a PC in 1975 and rose through the ranks to become deputy chief constable, before leaving to go to the National Crime Squad in 2001.
He returned to Merseyside as Assistant Chief Constable in 2004. Six years later, he took over the top job.
Congratulating Ms Kennedy on her appointment, he said: "There are undoubtedly tough times ahead but we are determined to ensure that front line policing continues to be our priority so Merseyside remains a safe place to live, work and visit.
"There is much for us to discuss, but I am sure that Ms Kennedy will share my commitment to the people of Merseyside, in providing an excellent policing service that they can have full confidence in."